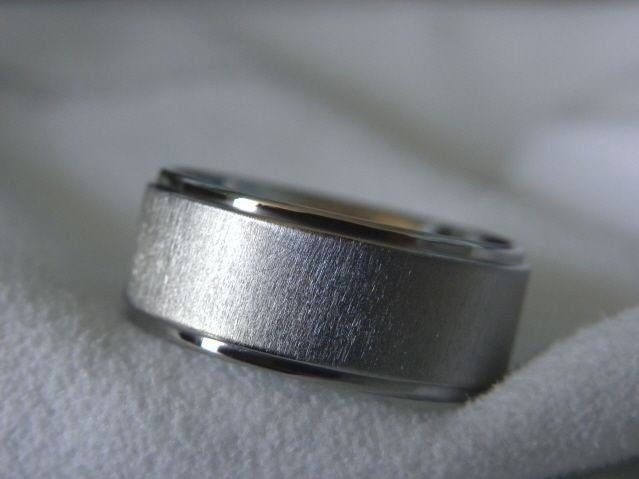 After my latest Timex Weekender acquisition (which has since expanded to the black and grey dialed versions, currently on their way from Amazon), I decided to turn my consumer's eye toward accessories like leather bracelets and rings.
Etsy
proved to be a copious source for such things, and I have several items on their way.
The first thing I looked for was a leather bracelet that could complement the members of my watch box. This purpose imposed certain criteria: no magnetic closures (lest the bracelet magnetize the watch) and a minimal amount of metallic hardware (to minimize the potential for nicking and scratching). I'd spent somewhat ludicrous amounts of money on a couple of bespoke leather cuffs from Canadian leather workers Palmer & Sons, which were nice, but far too large now that my wrist has shrunk to a 6-inch circumference. (A nice gentleman on eBay inherited my cuffs at a substantial discount.) Etsy provided a number of vendors with attractive offerings, and I settled on
Dstello
, a Spain-based merchant who nevertheless offers free U.S. shipping.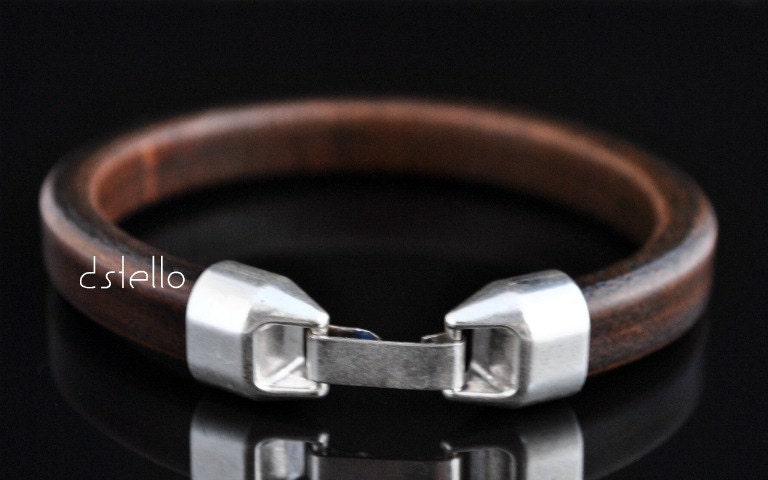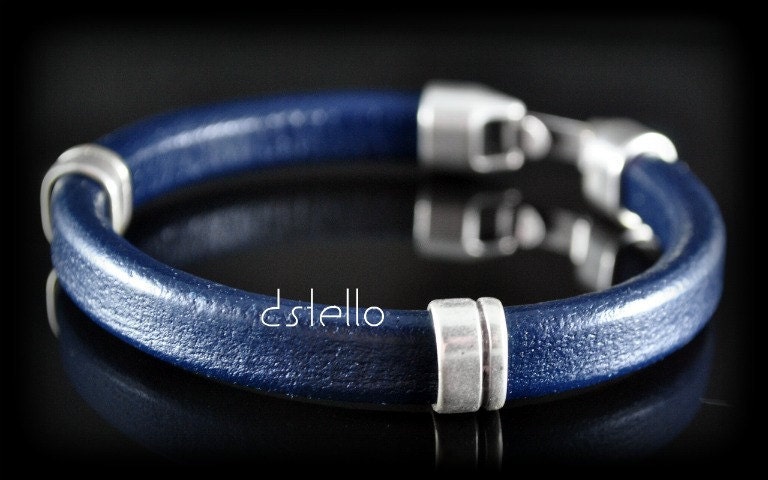 I purchased a simple,
thick brown leather bracelet with a hook closure
, and a custom tweaked version of their
blue leather bracelet with the antique-gold hardware
swapped out for silver tone. Despite the bracelets being tailored to my 16cm requirements, I received a shipment notification only a day later, and should receive them in 1-2 weeks. A review will follow swiftly thereafter.
I then turned to titanium rings, and found several with a lacquered blue band that I thought was very attractive. The problem, however, was that I remain unsure of my ring size, which has dwindled from the 7.5 I used to be when I purchased my college class ring. I should be somewhere between a 7 and a 7.25, and decided the resolve the matter by availing myself of a clearance-priced size 7 from the titaniumknights boutique. (It's similar to the one at the top of this post, but slightly thinner, at 6mm wide as opposed to the
8mm pictured
.) With free shipping, the ring should turn out to be an excellent bargain, presuming my size gambit pays off. But if it doesn't, then at least I'll know what size to order when I go for the blue-banded one, from
ClassicTitanium
, that originally caught my eye.